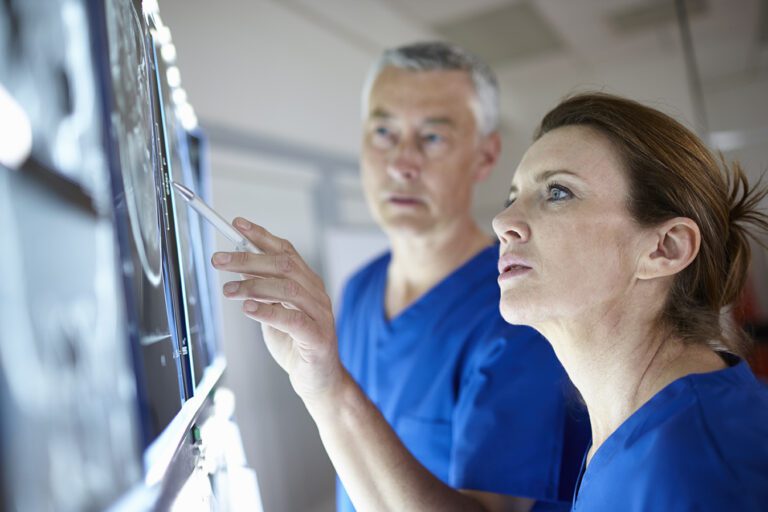 A paradigm-changing alpha radiotherapeutic that will revolutionize precision cancer care.
Our powerful alpha therapeutic is delivered via its small molecule PARPi platform to the most sensitive target at the sub-cellular DNA, where it destroys cancer at its source.
A Cutting-Edge Treatment Redefining Precision Cancer Therapy
Astatine-211-Parthanatine, or [²¹¹At]PTT, is an alpha-emitting radiotherapeutic that provides unparalleled potency for cancer therapy. Using the Trevarx small molecule PARPi platform, our patented alpha therapy agent is delivered quickly and effectively via the blood stream to cancer cells. It binds to the cell nucleus and delivers a cytotoxic radioactive charge directly to the PARP-1 expressing tumor, killing the cancer cell by creating double-stranded DNA breaks.
[²¹¹At]PTT utilizes the same PARPi platform as our patented diagnostic, [¹⁸F]FTT, making them an ideal pair for precision theranostic cancer treatment.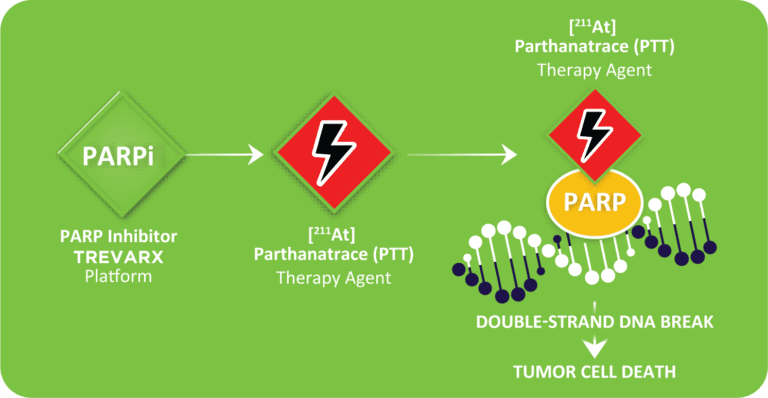 Trevarx Alpha Therapy:
The Future of Cancer Care
Alpha therapy is pioneering a new frontier of precision oncology. It offers more targeted radiation delivery than beta particles, which are less focused and less powerful.
Our groundbreaking alpha radiotherapeutic is the only treatment deployed as a small molecule alpha-emitter capable of targeting sub-cellular DNA and killing PARP-1 expressing cancer with double-stranded DNA breaks, eliminating the possibility of repair or reproduction.
We use Astatine-211, a halide alpha emitter ideal for maintaining its small-molecule structure, unlike Actinium-225 or other metal-based alpha emitters undergoing evaluation. These other emitters are not well suited to small molecule delivery platforms because their long half-lives are not compatible with the pharmacokinetics of small molecules.
Delivered via our small molecule PARPi platform, our alpha therapy reaches the cancer target quickly, releases powerful radiation at the most vulnerable spot in a cancer cell and clears the body quickly.
Leading the Way to Targeted Alpha Therapy Cancer Treatment
Our alpha radiotherapeutic is in the pre-clinical stage with plans for Phase 1 trials in ovarian, prostate, breast, and pediatric neuroblastoma. Our proof-of-concept (PoC) trial in ovarian cancer is targeted to be completed in 2025.
Trevarx provides regulatory support, multi-center trial expertise, drug development, and GMP manufacturing for all our radiopharmaceutical technologies.